With a true passion for interior design, we're in full Autumn Winter mode with this time of year being one of our favourites for creating mood boards and decorating. Offering residential interior design in York and across the nation, we're always looking for the newest trend and we'd like to share some of our top picks for Autumn Winter 2020 with you.
Panelled Walls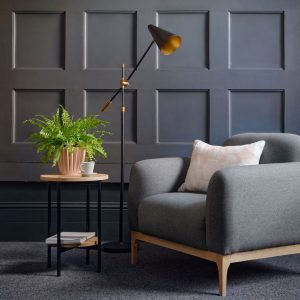 [Image: Dominic Blackmore]
Adding dimension to a lounge or bedroom, panelled walls are a period feature that's making a contemporary comeback – and we think it looks fantastic. Wall panelling can inject so much personality into a room, whilst also giving it a cosy feel perfect for Autumn time. We particularly love this trend on navy blue and forest green walls for a classy, luxe feel.
Not sure how to achieve this look in your own home? Our bespoke joinery  solutions are your answer.
Classic Country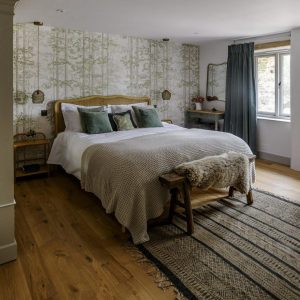 [Image: Polly Eltes]
One for the nature lovers, a cosy country style is a great choice for interior design through the Autumn Winter time. Bring the outdoors indoors by using soft, earthy colours like sage leaf greens, stone greys, duck egg blues and warm neutrals. Pair these gorgeous colours with a patterned bedding (we're loving dalmatian print!) and rustic, industrial solid wood furniture.
Bouclé is Back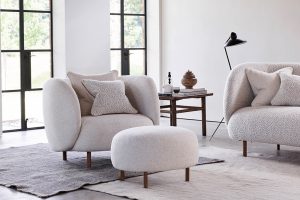 [Image: Love Your Home]
Bouclé, or teddy bear fabric, isn't reserved just for your Winter coat, it looks beautiful when used in upholstery. Made popular in the form of jackets by Coco Chanel, this cosy fabric will help warm up any room ready for when the colder weather hits. The teddy bear trend can be used all around the room, from throws and cushions to chairs and stools.
You can opt for darker colours for a regal feel or pair a lighter, cream colour teddy fabric with a pop of dusty pink and subtle gold accents for a style that works all year round.
We know that every person is unique, and your home should reflect that. If you're looking to transform your space into a haven tailored exactly to your taste, contact us on 01482 755665 or info@turningleafinteriors.co.uk to enquire about our interior design project management.
Ends.