Festive Home Decoration
The holiday season is quickly creeping up on us and we can't wait! Christmas is a time of joy and warmth, and a brilliant way to get into the festive spirit is by decorating your home to create your very own winter wonderland.
Being an interior design consultant in East Yorkshire, we love looking at interior design trends during the wintertime and creating mood boards around them. To give you a sprinkle of inspiration for your own home, here are some of our favourite Christmas décor trends that'll give you that luxury interior design feel without breaking the bank.
Post Impressionism Interior Design
Starting out with a bang, Post Impressionism interior design takes its vivid colours and abstract qualities from the Post-Impressionist movement led by artists such as Vincent van Gogh and Pablo Picasso. This may sound like a strange theme to base your Christmas decorations around, but we're sure John Lewis & Partners Post Impressionism Baubles will change your mind.
Using tropical animals, metallic accents and quirky patterns and colours is a great way to switch up your usual Christmas décor and we LOVE it.

Classic, Neutral Tones
If the Post Impressionism trend isn't for you, consider decorating your home with classic and elegant neutral tones for a low-maintenance way to make a festive statement. This theme works well with silver and champagne shades which look great on the tree, wreath and throughout your home. Dreaming of a white Christmas? Decorate your living space with some white faux fur rugs or throws for a cohesive look.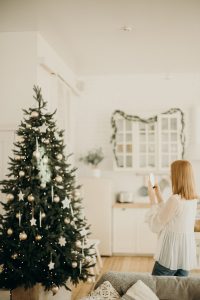 Looking for an interior designer in York to help with luxury interior design? Get in touch with us on 01482 755665, we can help with online mood board design, bespoke joinery and more.
Ends.