Autumn is just around the corner and more of us will begin to welcome family and friends back into our homes, and after spending months indoors during lockdown, a little home refresh could work wonders for the mind, body and soul!
Many of us have spent too long staring at the same four walls making now the perfect time to introduce a new colour scheme, styling and interior features to your home. What I love most about Autumn is a whole new set of colours being unleashed with yellows, reds, oranges and browns telling us winter is on its way. And whilst nature is changing all around us, we too start to change our living habits, craving a warmer cosier feel to our homes. Snuggling on the sofa with a big chunky throw or falling back into a luxurious velvet sofa surrounded by moody lighting and an open fire give us that welcome break from everyday life. Nature gives us the perfect colour scheme from which to take inspiration, with crunching leaves and more intense skies, autumn provides the perfect backdrop to an interior makeover. When decorating at this time of year indulge in rich colours from orange to brown and hints of deep blue. Consider mixing patterns, layering textures and creating a furniture plan that's conducive to cuddling up.
Think Pink
Whilst perhaps not the first autumnal colour that springs to mind, a delicate and chalky or pastel shade of pink can represent a sense of tranquility and will continue to be a popular decorative choice in homes as we head into winter.
The colour has come a long way since Pantone named 'Rose Quartz' as one of their chosen colour shades of the year back in 2016 and is no longer reserved for the walls of little girls' bedrooms! Try pairing with contrasting deep grey, green or deep blue tones, to give it the grown-up glow it deserves.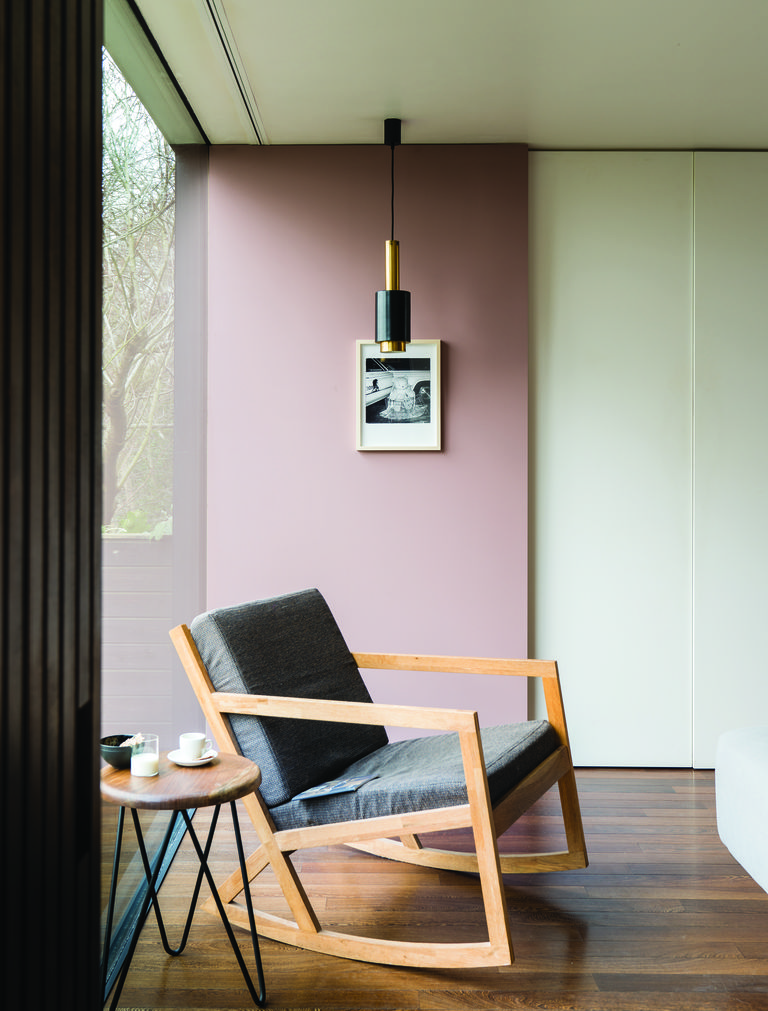 Walnut Wood
With its rich and inviting tones, walnut has long been a popular choice for durable and long-lasting flooring, but this stylish and sophisticated wood is set to become even more prevalent in UK homes later this year. Try encompassing a statement piece of furniture such as a dining table, bespoke built in storage unit or bespoke kitchen to give a true high-end feel.

Highland Heritage
Taking inspiration from nature's beautiful landscapes. A fusion of natural elements, sustainable materials and darker hues, Highland Heritage is all about bringing the outdoors in. The focus is on creating a cosy haven to relax in at the end of a busy day. Helping to bring balance, calm and instil a sense of belonging and comfort throughout your home. This is welcome news for all, particularly those of us who have become more conscious about the products we buy for our home. This sofa finished in a stunning Harris Tweed will add a dramatic focus to any living room. With a traditional camel back design, deep buttoning and matching footstool it really is the statement piece. Stylish scatter cushions and a soft check throw add in that all important seasonal chic.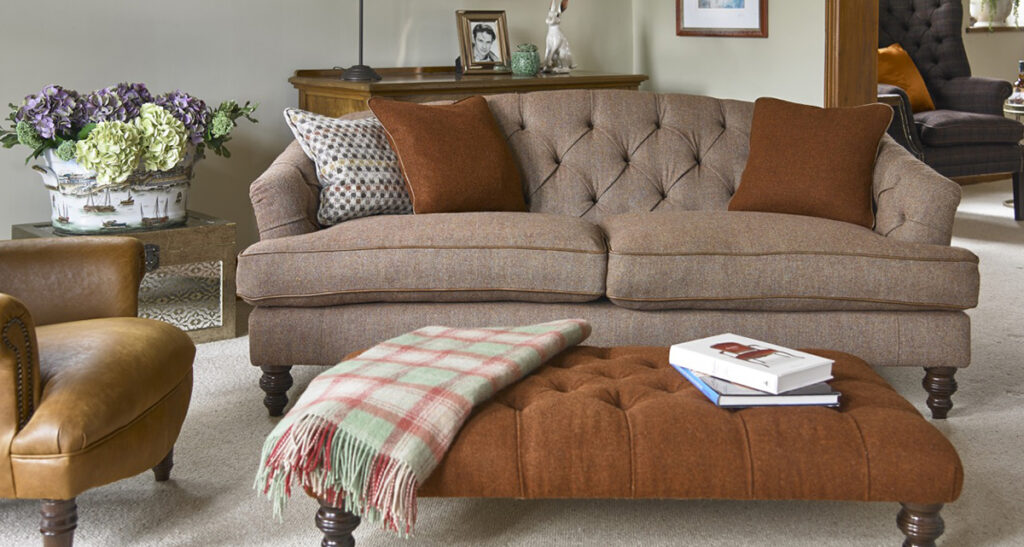 Embrace the jewels
Embrace rich and bejewelled tones this autumn & winter and feel ultra-luxurious. Darker colours and heavier fabrics create a moody atmosphere, which is a different take on a classic cosy feel. Invest in a statement sofa or occasional chair in a bejewelled tone such as teal, burgundy or burnt orange. Accessorise with metallic accessories and velvet soft furnishings.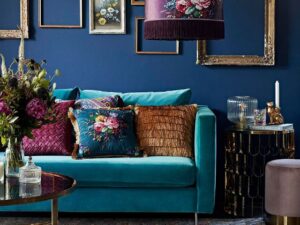 Glass Lighting
As the days gets shorter and nights draw in lighting is such a crucial part of the way we live and interact with our surroundings. A huge interior design trend for 2020 with is retro glass lighting. From warm vintage bulbs to mid-century statement lights, glass is the 'it' item of the season. You can incorporate different themes, styles, colours and shapes from creating a warm ambience in your living room through to cool and funky lighting in your dining room.
Remember nature never makes a mistake about colours that work well together. Plentiful fruit trees, leaves turning to deep oranges and reds, chestnut browns and harvest gold, autumn is an abundance of colour. If you are just updating or completely re-decorating why not engage the help of a professional interior designer to ensure a seamless and stunning finish. Turning Leaf Interiors will guide you through the process offering inspirational mood boards, a bespoke furniture design service, beautiful fabric choices and expertly chosen wall finishes. Contact us today to book your free consultation!