Deep Blue
Fancy a dive into the deep? Then look no further than the bold and beautiful blue colour schemes making their mark right now.
Deep, dark, rich blues – with a touch of gold. It's all part of our new found love of dark walls that make colour ping out and create atmosphere. Positive and intense or calming and restorative, blue is the colour of both the pinstripe suit and the denim shirt and of all things nautical and naval. The use of colour in interior decor is extremely important for bringing personality and character to a room. Even simply adding a pop of colour can change an interior space dramatically, whether it be through a daring paint colour choice or by adding a variety of home accessories and furniture.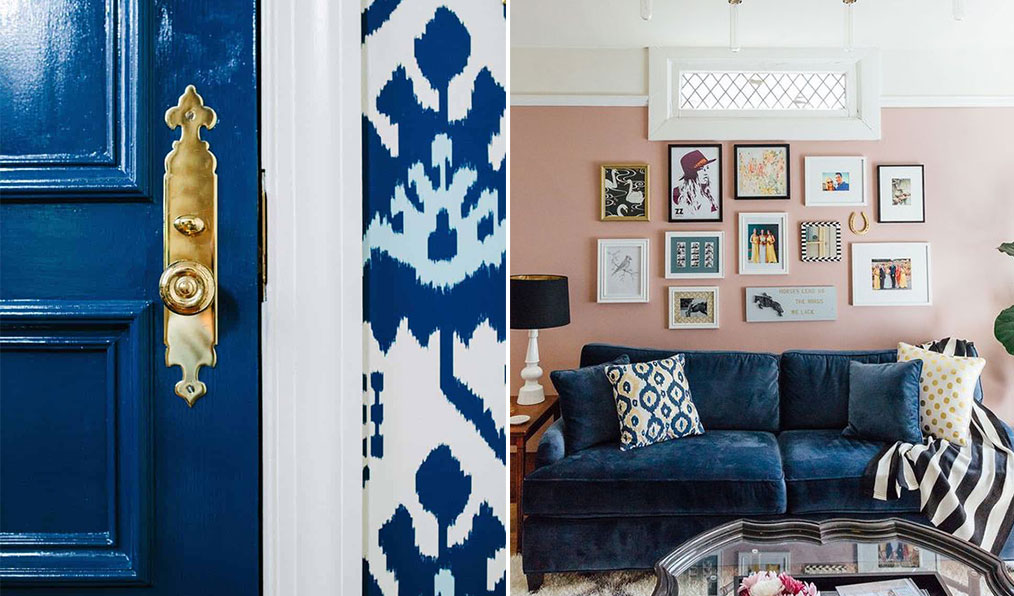 Blue and white form a classic colour combination, both in our home and our wardrobe. Try light and deep blues together in a single scheme, contrasting clear and pale shades. Pattern and texture are inextricably linked and can elevate colours into something quite magical. A sophisticated feel that is right on trend is blue and gold interiors. This is a strong look that can be easily managed by teaming it with a lighter colour like millennial pink, that prevents the shade from overpowering. A dark grey actually work really well with blue and gold. It doesn't sound like it might, but it actually gives a great contrast to the blue, making it feel brighter. The gold is the seal between the two, a common complimentary colour to tie it all together and add warmth. a deeper shade of blue for the curtains and tableware to add depth and break up the scheme with a pop of mustard and a big blousy floral cushion or two. Remember to bring a little nature indoors with pretty flowers in a vase or a striking house plant such as a collection of cacti.
Embrace opportunities to use pattern in unusual ways, highlight dark corners and bring vibrancy to tired areas. Vivid turquoise or electric blue are bold colours and will add originality and character to a room. Deep inky blues have a rich and alluring history, they are evocative and sensual. Indigo and deep blues elevate a room scheme creating a tranquil and mediative space. Try combining deep blue and coral for a more refined look and feel, perfect for living and dining rooms. Be confident with dark blue in a small space. It is true that large rooms with high ceilings are made more intimate through the use of deep seductive colours. Through careful use of lighting and accessories you can create a sense of drama and unexpected delight.